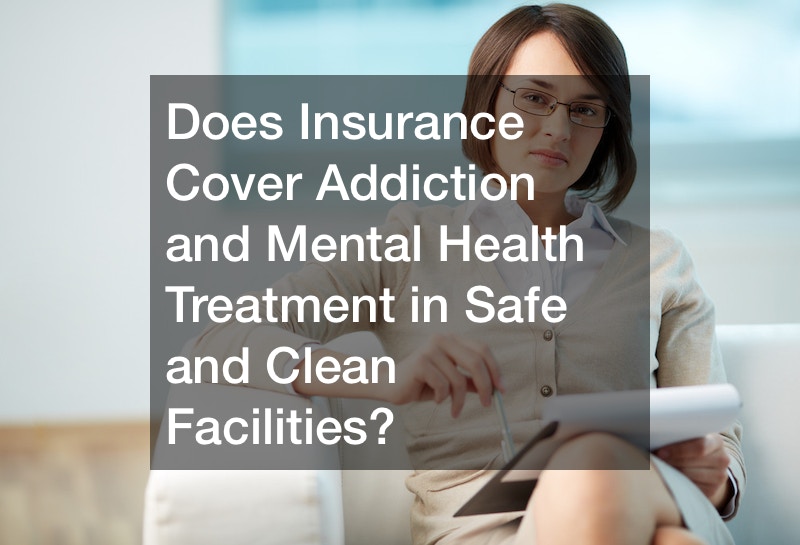 Getting addiction and mental health treatment can be life-changing. One of the key concerns when it comes to getting this type of treatment is whether insurance will cover the costs. The answer can vary depending on the health insurance company and the type of health insurance plan you have. However, there are some key things that you should know about mental health and addiction treatment when it comes to insurance, so let's dive in.
1. The Treatment Facility
Each addiction treatment facility has different rules regarding the insurance they accept. Some facilities accept many insurance options, while others don't. As a matter of fact, some treatment facilities don't accept insurance at all. Shopping around for an addiction and mental health treatment facility that does accept your insurance is the easiest way to find help with minimal out-of-pocket costs.
The best way to find an alcohol treatment program or addiction and mental health program that accepts your insurance is to ask your insurance company if they have a list of facilities that are "in-network". In-network providers have a special agreement with the insurance company to provide services at a fixed rate. Your health insurance company can help you find a program near your home that will accept your insurance.
You may need to see your primary care provider to get a referral for treatment. It depends on what requirements your insurance company has. If you need a referral for treatment, make an appointment with your primary care provider and speak with your provider about your concerns. Your provider will likely know of a facility that will accept your insurance.
2. Addiction As a Pre-Existing Condition
You may have heard rumors that health insurance companies don't cover inpatient rehab because addiction is considered a pre-existing condition. In the past that may have been true. Insurance companies would use the "pre-existing" clause in their policies to deny benefits to people seeking addiction and mental health treatment. That has all changed.
The Affordable Care Act (Obamacare) changed the rules for getting help for addiction and mental health issues. The ACA changed what pre-existing conditions were to be considered and how they were handled. Insurance companies can't deny coverage based on pre-existing conditions, even regarding addiction. You can seek treatment at an alcohol treatment center, and your insurance company can't deny the treatment based on it being a pre-existing condition.
Don't let rumors stop you from getting the addiction and mental health treatment you need to regain your life. If your insurance company tries to deny you services, there are avenues you can take to fight back. There are insurance advocacy groups that can help you get the coverage that you deserve from your health insurance company. Fight back if you are denied.
3. Public Health Insurance and Treatment
If you are on public health insurance like Medicaid or Medicare, you may have the treatment coverage you need. Coverage is largely relative to the facility. Public health insurance covers this type of treatment, but they are very finicky about the facility and its management. Medicaid and Medicare are two different public health programs that serve two different populations. Each plan does cover addiction and mental health treatments, but they have different rules for receiving them.
For example, Medicare serves primarily seniors and disabled individuals. Medicare Part A will cover inpatient treatment like it would any hospitalization. However, you will need a referral from a PCP to go to the treatment facility, and there will need to be evidence that your addiction or mental health issue is a health threat. It is not hard to establish that you need inpatient treatment, but it can be a lot of red tape involved with getting the help you need which can deter some people from seeking treatment.
Medicaid is a public insurance program that is based on income. Medicaid may cover all or part of gambling counseling service costs, mental health treatment, and inpatient addiction treatment. Medicaid rules have changed over the last couple of years, so you will have to check with your specific provider to learn more about the type of coverage available.
4. Choosing a Facility
Once you have a list of facilities that do accept your health insurance, it is strongly recommended that you investigate the facility and learn more about the processes and the facility itself. Addiction and mental health treatment facilities are expected to offer well-managed care in a clean environment. It matters less what the furniture in the facility looks like than whether the facility is kept clean.
The right facility will have earned a reputation for providing top-notch care and using programs that are evidence-based. They will have a staff of professionals tuned into the facility's approved procedures and support the program and the patient. Nurse staffing will be curated to include compassionate providers who believe in their actions. It is important that the entire facility is well managed.
The right facility will have medical building cleaning service that regularly cleans the building. It is important for the health of the patients that the building is kept clean and sanitary. The environment should be comfortable and welcoming. There should be plenty of staff that provide support to the patients.
4. How to Get Your Insurance to Cover The Costs
The first step in getting your health insurance company to cover the costs of addiction and mental health treatment is to become very familiar with your insurance coverage. Read your policy and pay close attention to the sections that talk about mental health coverage, as addiction is a serious mental health issue.
Learn about the specific coverage details, including any limitations, copayments, deductibles, and pre-authorization requirements for treatment services. This will provide you with a clear understanding of what is covered and help you prepare for discussions with your insurance provider. Knowledge is power when it comes to getting the insurance company to pay for your treatment.
Prepare to present your case to the insurance carrier and prepare to gather information during the conversation. Have something to write with so you can take notes as you are speaking to the insurance agent. Ensure you get a name when talking to the agent and any other identifying information. Write down the date of the conversation and keep good notes. You may need to use them down the road if you have to fight for your coverage.
5. Know Your Rights
There are laws in place that protect you as an insured member of a health insurance plan. The Mental Health Parity and Addiction Equity Act (MHPAEA) and the Affordable Care Act (ACA) mandate that insurance companies offer equal coverage for mental health and substance abuse treatment compared to other medical conditions. Knowing your rights will empower you to advocate for the coverage you are entitled to.
Don't be afraid to quote the laws of the MHPAEA or the ACA to your insurance carrier if they try to deny your rights to addiction and mental health treatment. The laws are in place to protect the insured. Mental health problems are health problems; like other health problems, coverage should be available.
If your insurance carrier denies you coverage, make sure you get the denial in writing. You will need to create a paper trail if you must go to court to fight for your coverage. Don't take no for an answer. There are ways you can force the insurance company to provide coverage.
5. Obtain Pre-Authorization
If you need addiction and mental health treatment, obtaining pre-authorization from your insurance company is a good idea. Pre-authorization from the insurance company will cut back on any wait time that is necessary for the facility to get the pre-authorization for you. You may have to work with your PCP to get the pre-authorization. You may also have to have some blood work and other diagnostic testing to support the need for the treatment.
Some insurance companies make it hard to take advantage of coverage for mental health treatment. Follow whatever guidelines your insurance company requires to get the pre-authorization because once you get it there is no way for them to deny coverage. Be honest in your needs with your primary care doctor. They can be your best advocate.
The desire to sugarcoat the situation may be present, but you shouldn't. If you feel like you need this help, express that to your provider. Make it clear to your provider how important it is for you to get treatment. Downplaying the situation will not help you get the care that you need or the coverage from your insurance company that you want. Be honest and express to your provider that you are in dire need of services. It will help you get the insurance company to pay part or all of the costs.
6. Safety Should Be a Priority
The right facility will make safety a priority in any addiction and mental health treatment. For example, there should be a safe step in showers to ensure patients can shower comfortably. The facility should take other safety steps to prevent accidents and injuries. Medical monitoring, security, and other layers of safety protection should be in place.
Some insurance companies are very adamant about safety features and will not cover care at facilities cited for regulated medical waste pickup violations because it is that important to the safety and care of the patient. You can take a tour of the facility before you commit to becoming an inpatient to ensure that safety measures are in place.
There are a few things that you should look for, like how people get in and out of the facility. Is there a checkpoint? How are employees vetted? Does the facility use professional medical waste disposal services to manage its biological waste? A good facility will have all the safety procedures in place to ensure that its patients are safe and cared for during their stay.
7. Get Proper Support
If you have followed all the requirements and done all you can to get your insurance company to cover the cost of addiction and mental health treatment, and you still have a problem, get external support to help. Some advocacy groups focus their energy on getting people the help they need. These groups are free to join, too.
These groups often have a network of professionals that will fight for the insured to get the coverage that they deserve from their insurance companies. Insurance companies are supposed to cover the cost of mental health care but sometimes they need a little push in the right direction to do the right thing. Working with a group can get you the results that you need to get the treatment you want.
Don't be afraid to reach out and be a squeaky wheel if your insurance company is giving you a hard time covering the cost of the treatment you need. Find an advocacy group in your area that will support you and advocate for you with the insurance company. It may be exactly what it takes to get them to pay for care.
Another concern that many people have that keeps them from using their health insurance for treatment is using their employee health plan. They fear that their employer will be notified about the treatment and that it will jeopardize their job. There are strict confidentiality rules regarding what type of information insurance companies can provide, even if the employer pays the entirety of the plan. It is not something you should worry about. If the insurance company does divulge information that jeopardizes your job, you can sue.
Get the addiction and mental health treatment you need. Don't let insurance worries stop you from getting treatment. Learn more about your rights today.