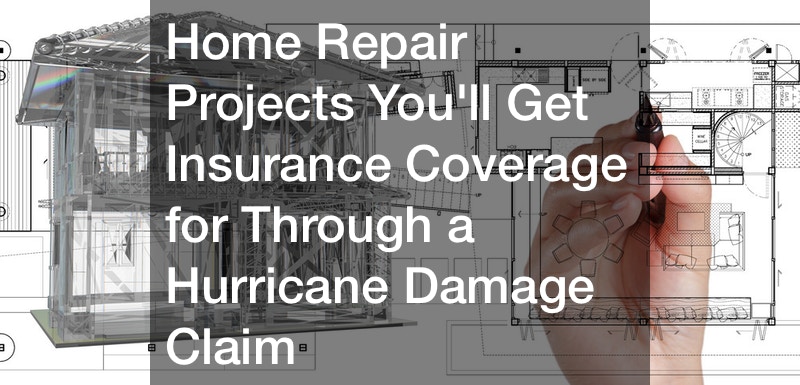 Weather-related disasters cause damages worth billions of dollars. The hurricane season begins on June 1 and runs to November 30, triggering severe damage like flying branches, falling trees, flooding, and extreme rainfall risks for homeowners.
One of the best methods their property owners can use to protect themselves and their property is getting insurance coverage, through which they can launch a hurricane damage claim. Do you live or own property in the coastal region? Here are various things you should know about storm damage insurance claims.
Understanding Hurricane Insurance

Hurricane insurance comprises a merger of various insurance coverages. Before making a hurricane damage claim, it's worth mentioning that the hurricane insurance policy is not standalone. Homeowners can get hurricane insurance coverage by combining flood insurance, homeowners insurance, and other endorsements such as windstorm or sewer-back coverage, available in some states.
What Does Hurricane Insurance Cover?

Hurricane insurance can cover you for damages resulting from heavy rainfall, wind, storm surge, tornados, and flooding. However, this depends on the combination of insurance coverages you choose to purchase. With these insurance types, homeowners can make a hurricane damage claim from damages resulting in hurricanes, as seen below.
Homeowner Insurance

A basic homeowners insurance policy will cover the home's structure from lightning, wind, and hurricane damages.
Flood Insurance

This insurance protects property owners against wind-driven water, storm surge, and flooding. Home insurance doesn't offer coverage for these dangers. Flooding is a core risk during a hurricane. Besides property owners, renters can also get flooding coverage and launch a hurricane damage claim when needed.
Sewer Backup

Your home could experience sewer backup following a hurricane or extreme weather. Some home insurance policies don't offer storm damage remediation coverage. Homeowners can ask their insurance companies to include this coverage in their policy if it's not automatically covered.
Additional Living Expense Coverage

Renters or home insurance policies offer coverage for additional living expenses. This policy covers temporary food and housing costs in cases where the home becomes uninhabitable following a hurricane.
You should ensure the coverage is sufficient to cater to the substantial and prohibitive costs that hurricanes trigger. For example, should a category five storm wipe your home, you should make a hurricane damage claim for restaurant meals and temporary shelter while rebuilding your home. In this case, many insurance providers will allow you to pay higher additional living expense coverage limits based on where you live. If you live on the coast, consider increasing your additional living expense coverage time limits and amount.
Dwelling Coverage

This insurance policy covers a home's structure, in-built appliances like kitchen cabinets, water heater, and roof. Ensure your dwelling coverage equals the entire rebuild cost of the home. Consider the costs of hiring a residential roofer. Remember that home damages resulting from a hurricane can be costly, draining you financially. You will need to pay the difference if your coverage isn't enough. Consider guaranteed replacement cost or extended coverage to be on the safe side.
Personal Property Damage

This policy covers property that is not attached to the house physically, like furniture, clothing, plants, and appliances. Take an inventory of all your belongings and ensure they are insured. Instead of the depreciated or actual cash value, get the replacement cost. Doing so will enable you to replace the damaged items with new ones of an equivalent value.
What to do When a Hurricane Destroys Your Home

While hurricanes occur rarely, they can leave a huge mess behind. You must file a hurricane damage claim if your house is damaged. What should property owners do after hurricane damage? Read on to find out.
Inform Your Insurance Agent

The insurance agent is the first party you should inform when you want to make a hurricane damage claim. Remember, they represent you during such times and understand the ideal steps to take. Contacting the insurance agent accelerates the process of launching a claim. Ensure your insurance agent tells you what they need from you. Ask them the following questions:
When will the insurance company contact me?
What next step should I take?
What information or documents should I start collecting?
Inform Your Insurance Company

Your insurance agent is tasked with informing your insurance company about the damage. If you don't have an agent, inform your insurance company immediately. Based on the magnitude of the damage, your agent may need to inform multiple insurance companies.
For example, homeowners insurance is different from flood damage. If the hurricane causes car damage, you will need to file a hurricane damage claim with your vehicle insurance firm. Usually, a hurricane may affect multiple homes, meaning the insurance firm will likely beware of the calamity.
Document Your Damage

The insurance company will need to know everything you lost during the hurricane. Remembering everything can be difficult, so you should document the damage as soon as possible. Inspect and record a video of the damage on your property, including the siding.
List as many belongings as possible and give your insurance adjuster a copy. Once the insurance firm starts an extensive investigation to establish the damage to your home, they will rely on the document to hasten the process. Your insurance firm can ask you to fill out a proof of loss, a great way to list your belongings.
Get Ready for the Claims Adjuster

When your insurance firm is aware of the hurricane damage claim, they will designate a claims adjuster to call you and visit your home. The adjuster will often call you within a few weeks or longer if the hurricane is severe. The insurance adjuster asks for various details, and you should acquire them as soon as possible. Providing the information fast allows the adjuster to move fast in visiting your home and assessing the damage.
Start Repairing or Rebuilding

After evaluating the damage, you can start determining the parts of your home you want to repair or rebuild. You will need to collaborate with various contractors you can choose or get recommendations from your insurance firm.
You can also get recommendations for credible roofing services providers from friends and family members. Remember, deceitful contractors often reach out to people affected by calamities. Exercise caution and only work with accredited contractors. Before collaborating with a contractor, establish details like the materials they will use for the task and the cost.
Document Everything

In writing, document all your discussions with the roofing company and your insurance firm. You will often want to confirm important details, so having everything within reach comes in handy. Keep receipts of everything you buy or any money you spend on cars, rentals, or hotel stays. The insurance firm will not compensate you until you can provide proof of purchase.
Know Your Rights

Not many people expect to use their insurance in a calamity. Ask your insurance agent to explain your rights and the coverage you should get from your insurance firm. Hurricanes often trigger wind and flood damage, which aren't covered by your homeowner's policy. Your insurance agent will help you analyze these policies and handle a hurricane demand claim if you don't have flood insurance.
How to Enhance a Hurricane Damage Claim

Take numerous photos and record as much as possible. Doing so will give you proof of damages. Imagine you were the insurance company. Would you pay for garage door repair services without evidence of the damages and repairs or replacements done? Your insurance company will need proof of the magnitude of damage.
Take photos, whether the damage is small or huge. Sometimes, damages such as wiring problems, electrical and electronic failure, mildew, or mold occur later. The decree of conditions for filing hurricane damage claims on a property in some states is usually three years from the date you record the evidence. However, always assume the timelines start once the calamity happens.
Watch out for evidence of wind or water damage that may not appear later. This may include water discoloration or marks, peeling paint, warping and buckling floors, musty odors, loose roofing shingles, and electrical problems. You may need to call in qualified roofers to inspect your roof. Get your home checked for mold spore growth monthly.
Monitor the time you take off work to manage damages. Based on your insurance policy terms, that time can be a covered expense. Keep all your receipts for a glass door repair or any other damaged item on the property properly. If severe damages to your home forced you to seek accommodation elsewhere, include your living expenses. Many homeowner insurance policies covering water and wind damage cover all those costs, sometimes up to one year.
Have a notebook of all conversations you hold with the insurance agents. Include the time, date, contact details, and agent names. Include details of how the conversation ensued. Where possible, write their actual quotes, especially where they mention compensation.
Avoid using the term 'flood' when detailing damages. Many homeowners mention flooding when talking about water damage. Worth mentioning is that there is a critical difference between the two terms. Using the term flooding can complicate the insurance recovery process. While many property owners may lack flood insurance, they have insurance cover against damages triggered by rain or wind. Use the term water damages when speaking to an insurance firm representative to be on the safe side.
How to Safeguard Your Property Against Hurricane Damage

Property owners may lose more than $9 billion annually for damages triggered by hurricane flooding and winds. According to estimations, commercial claim payments cover approximately 40% of the losses. Homeowners pay the remaining restoration costs and lost income from their accounts or close permanently due to bankruptcy.
Property owners can get a high percentage of their damages with the following key steps.
Preparing for the Worst

If you have had your insurance coverage for years, you may realize that your policy limits are less than your property's growth. Hiring a private adjuster or an independent inspector can save you millions when filing your next hurricane demand claim, especially when you adjust your policy to cater to a large or total loss of your property.
Reread Your Private Insurance Policy

Will your home insurance cater to six months of recovery only, or are there chances of an extension? Does the policy facilitate payment for identifying losses occurring due to multiple causes that endanger your property? What causes the additional costs or personal liability on your policy? Will your compensation reduce based on the level of depreciation on the property? These factors can impact the coverage amount or determine the success of your claim.
Leverage Optional Extras

The best hurricane damage insurance is customized to meet specific individual needs. For example, homeowners can gain from registering for ordinance or law insurance to cater to the cost of rebuilding a damaged property to the prevailing building codes. They can also consider utility service interruption coverage to cater to the high cost of construction coverage, lost perishable goods, and rebuilding delays.
In Summary:
Hurricane coverage combines multiple types of insurance, including flood, homeowners, and windstorm insurance.
Property owners should ask for replacement cost cover and insure their home to value to earn sufficient money to rebuild their home from a claim. Worth mentioning is that specifying hurricane coverage is critical in guaranteeing replacement costs.
Homeowners should buy hurricane insurance early to cater to waiting periods where applicable.
Hurricane insurance is as important to renters as it is for property owners.
When your hurricane demand claim has been launched, you embark on the repair process, which can last months or years based on whether you are engaging siding contractors for simple repairs or an entire rebuild. As a property owner, you must know the procedure and timing between you and the insurance firm.
Maintain a professional viewpoint and handle the claim like a critical project you want to complete instead of a distressing experience. Collaborating with your insurance company facilitates a smooth process, and you can always involve your insurance agent to fast-track the process.