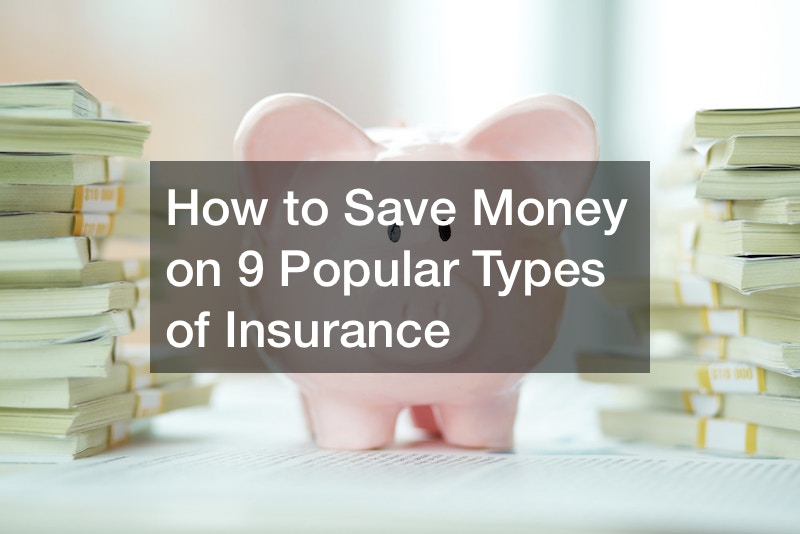 Nearly everyone owns at least one type of insurance policy, but some people need more than one policy. They need to cover their home, auto, boat, health, and life. Each of those items requires a different type of policy, requiring a bit of insurance research to find the right agency.
First, this article considers ways to save money on any insurance type. Next, it considers how to save money on premiums for specific insurance policies. We'll tie it all together at the end.
Tips on Saving Money Overall on Insurance
Although insurance may seem like an expensive investment, owning a policy that covers your financial investments or your life protects your financial security for just a few dollars per month. Here's how it works. You and an insurance agent discuss what you own and its value, determining the policy amount needed to fully cover the item. You pay a small premium each month to ensure coverage.
1. Make a list of things to insure and create an insurance package.
An insurance package costs much less than purchasing insurance separately. When making your list, know that your personal property kept in your house receives coverage under your homeowner's or renter's insurance, so don't list it separately. Your motor vehicles, RV, and boat all come under different policies.
2. Obtain quotes from multiple agencies.
Insurance differs from retail items for sale. You can't go to a mall or store and compare prices quickly like you can when shopping for coffee at the grocers. With insurance, you must request a quote from each potential agency for the exact same coverage. This lets you compare premium costs.
Skip the automated quote websites because they typically only provide auto quotes, typically. You need a quote on all the insurance types you require – the full package. Here's an industry secret – insurance companies provide their best customers with deep discounts. When a customer purchases all of their insurance policies from one agency, they may receive up to a 25% discount.
3. Compare premium costs and services.
Ideally, each insurance company provides a quote on exactly what you requested. Some insurance companies offer extras included in their policies, so consider this when comparing costs. For example, some companies include roadside assistance coverage with an auto policy, instead of charging for it. When this happens, find out the typical cost of roadside assistance per month and adjust the costs of the other agencies accordingly.
When an agency includes a big extra, but costs a dollar or so more per month than the other agencies, it costs you less. If you already pay for AAA or a similar service, you will be able to cancel it and save money. If you do not already have roadside assistance, the tiny cost proves worth it the first time you experience a flat tire, run out of gas, or some other type of automotive breakdown.
Purchase all of your insurance policies from one agency.
Besides nabbing the multiple policy discount, you make dealing with insurance easier, resulting in time savings. By purchasing a package, you will have only one insurance agent to contact for every need. This individual gets to know you and your financial protection needs. Instead of making many small insurance payments, you transform your many insurance policy premiums into one payment.
Saving Money on Single Policies
Maybe you're just starting out on your own, so you only need one insurance policy. You can still save money by doing insurance research, comparing quotes, and making sure that each company offers a quote that contains the same types of coverage at the same levels as the others. Let's consider the most common types of insurance people need.
1. Auto
Most people need auto insurance first. They buy their first car in high school and purchase insurance either with the help of their parents or on their own if they're 18 or older. Doing a little insurance research can pay off even for these first-time, high-risk drivers. Choose an insurance carrier that offers student discounts to those who earn high grades – usually 3.50 or better GPAs.
Take any driver's education course offered by your school to nab another discount. Most insurance carriers offer a discount to people who successfully complete a defensive driving course. Most schools issue a certificate of completion for this course, and it counts as an elective toward graduation, so students benefit twice from the course.
Every state requires auto insurance before a driver can hit the roads of the state. The minimum required insurance covers the individual's liability to other drivers and pedestrians. If the driver causes an accident, the insurance pays for the medical costs of the injured and the damage to their vehicle up to the policy maximum.
To cover damage to your vehicle and your injuries, you add comprehensive and collision coverages. Those two types cover things like shattered auto glass or dents in the bumper. When you shop for auto insurance, price the cost of full coverage, so you can accurately compare costs. Going without collision and comprehensive can cost you big time in the long run.
2. Renters
Next, most individuals rent a dorm room or apartment when they move out on their own. While living in their parent's home, their homeowner's insurance covered their belongings, but once they move out, they need renter's insurance. Renters insurance costs little, but obtain a policy that fully covers what you own.
Most renter's policy quotes base the premiums on a $1,000 policy. If you own hobby equipment like a camera or guitar and amp, you would quickly eat up your coverage in the event of a peril, a term that means damaging event. You choose how many perils the policy covers, starting with the basic 10 with fewer perils costing less.
Although choosing fewer perils covered can save you money, it can also hurt you when an event occurs. If your policy does not cover a peril among its named perils, then it does not cover what happened to your stuff. Make a list of everything you own and imagine having to buy it all again. That's what can happen if you don't choose all perils coverage.
3. Medical
In college or vocational school, an individual typically purchases their first medical policy, student health insurance. The school typically offers a group plan, making it easy to choose. Graduation cancels the insurance and the graduate must obtain their medical insurance. Skip the COBRA coverage that the insurance company might offer because it will cost an exorbitant amount. Visit the website for the US healthcare insurance marketplace to find a policy that suits you.
This website places all the information for medical insurance research in front of you. First, you complete an application, then the site tells you for what you qualify. You may qualify for free coverage under the Medicaid program or for reduced-rate coverage. Once the website's app tells you, start shopping for medical insurance by comparing coverage.
Consider the type of coverage you need. If you don't drink or use illegal drugs, you probably won't need outpatient rehab coverage. Stick with the basics of hospitalization coverage, doctor's visits, and prescription coverage. A policy covering these items shouldn't cost much in premiums, and you can reduce premiums by choosing a higher deductible, the amount of costs you pay for before insurance kicks in to pay the rest.
Here's a warning though. Don't make your deductible higher than you can afford to pay while not working. Choose a deductible less than what you have in emergency savings.
4. Vision
Most medical insurance does not include coverage for eye doctor visits, prescription glasses, or contact lenses. For those expenses, you need vision insurance, so get back to the insurance research. The insurance marketplace also offers vision plans, making this an easy task. Look for plans from the same carrier as your medical plan, so you can create a package deal for yourself that costs less than separate premiums.
5. Dental
Ideally, an individual visits the dentist every six months, so consider adding dental coverage, too. The marketplace makes your insurance research easier by placing dental plans for which you qualify on the site. Like your vision insurance, look for a plan that comes from the same carrier, so you can add it to your package to reduce premiums. If you go into business for yourself, you'll keep these policies, but if you go to work as an employee for a firm, they'll provide your benefits – at minimum, your medical insurance.
6. Homeowners
After working for a few years and saving money for a down payment, many individuals buy a house. This purchase means they need homeowners insurance unless they purchase a condo, which requires condo insurance. Saving on these types of insurance uses some of the same techniques as renter's insurance.
With home insurance, you choose from three levels of perils coverage – 10, 15, or all perils. The latter covers anything that could happen to your home, while the named peril policies covering 10 or 15 perils only cover those perils specifically listed in the policy document. Choosing fewer perils costs less on premiums, but can cost you much more down the line if you need to hire tree removal after an unlisted event.
If you build a new home, the home builders from whom you purchase the house will have covered it under their own builder's policy until you close the sale. As soon as you sign on the dotted line, you must prove you bought insurance to cover the home. Banks and credit unions require you to carry home insurance to reduce their risk in lending you money.
7. Pet
Once you own a home, you make your own rules about having pets. At this point in life, you typically have a mortgage, and auto payment, and may be paying off school loans, so saving every little bit of money helps. Do some pet insurance research. Spending just a few dollars per month on a policy can save you hundreds to thousands of dollars if your pet gets sick.
To make the most out of this pet policy, choose insurance that covers an annual vet visit and an animal hospital stay. This ensures that your tiny premium payments help you afford quality care for your Fido or Fluffy. Obtain quotes from various carriers, choosing the same options from each to make it easier to compare costs. Ask your current vet, if you have one, which insurance policies they accept, so you don't have to change vets.
When it comes to pet care, the more a policy offers for an affordable premium, the better. Animals develop both simple and complex diseases, just as humans do. They could get hit by a vehicle or become involved in a fight with another animal. Insurance that provides for tests and medications goes a long way to reduce vet bills.
8. Business
Eventually, you might open your own business after a few years of working for an employer. Becoming your own boss, even if you earned a nail tech license and only rented a stall, means buying business insurance. Your insurance research will reveal to you that more than 20 types of commercial insurance exist with just as many riders and add-ons abounding.
Why do so many types of commercial insurance exist? Because the insurance industry knows that an estate planning lawyer needs different coverage than a chef. You can easily save money on business insurance by meeting with an insurance agent to explain your business and answer a few important questions. Based on your answers, the insurance agent recommends only the coverage your business needs.
Although life stays busy, making time for this consultation can save you lots of money. If you tried to decide which policies you need on your own, you would probably end up with something you don't need. Make an appointment for either an in-person or Zoom consultation. Snap up the business owners' policy (BOP) package if your company qualifies since it offers the top four most common policies at a discount.
9. Boat
As adulthood encroaches, you may find yourself doing insurance research on skiffs or bay boats, maybe even a speed boat. At this point, you're practically a pro at insurance, and you know where to dig for policy deals. Here's a little-known fact that can save you money; you can insure your boat, Seadoo, jet ski, etc. on your boat policy to simplify things and reduce premiums.
When you visit a boat sales showroom, they tout the great fantasy of riding the waves every day in your boat. You probably work, so in truth, you might use your boat once per week. Choose a policy that covers its mooring and dry dock, plus transit time to and from the waterway. Picking local water coverage costs less, but if you navigate into international waters, you need international water coverage.
Start your insurance research by finding out which carriers experience the best customer loyalty. Which ones make it easiest to file a claim? These factors influence whether you will want to remain with a company throughout life. Now that you know the nine common insurance types that most individuals buy, you understand why insurance carriers want to offer discounts to entice loyalty. Use that to your advantage when insurance shopping to save money.